Looking to Move? Determining Your New Neighborhood
Moving is a life changing decision that comes with lots of excitement and wonder. Whether you are moving to the other side of town, or exploring the idea of changing cities all together, it is something that takes significant consideration, planning and bravery. While professional moving companies can make the process much easier, moving is a big deal for most people; bottom line.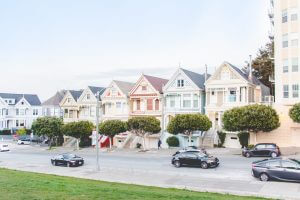 If you're making the transition to a completely new city, congrats on this new adventure that a-waits! Perhaps you've always lived in a small town and have had an itch to see what the city life is all about; we don't blame you for such curiosity; sometimes it's exactly that change you've been hoping for. One big thing to consider before settling down in your new city however is what neighborhood you should reside in. You might be thinking, why is this such a big deal but there are actually many things to consider before choosing what neighborhood you'll be joining.
Let's take a look at some things you should think about to determine this:
Speak to Professionals
Before deciding on your new home, it's important to meet with both a mortgage expert and real estate agent. In both cases you will discuss with them the goals you have in mind and any specific desires you want for the future. They want to ensure you find the perfect home so any information pertaining to your vision will be discussed at this point in great detail. Based on the information reviewed, your mortgage broker can direct you towards particular areas or homes that may be fitting to your income, potential expenses and the lifestyle you want. Of course your real estate agent will physically show you these neighborhoods of interest and guide you through the selection process.
Get Acquainted with What it is You Envision
What type of home are you drawn to? Single detached, duplex, townhouse, or apartment?
Do you care about who your neighbors might be? Families, singles, professionals, couples, or retirees?
What do you feel is an absolute must for your new neighborhood? Good schools? parks? Variety of restaurants?
Research What is Offered in Regards to Local Transportation
You may not use transportation yourself, but it should be taken into consideration when deciding on where to live. Situations are always changing and you may find that you'll need to use public transportation occasionally, not to mention family or friends who may come to visit you. It never hurts to live close by to bike lanes, trains, busses, and the metro.
The Available Schools Nearby
If you have children or plan to have children in the near future, you should definitely look into what schools are offered and what the proximity is for each from your home.
Will you want to be close to daycares and preschools?
Is it possible you may require day camps in the summer because of your work schedule?
If applicable, what age group do your children fall under? Will they need access to elementary, high school or post-secondary schools?
Lifestyle
Restaurants, nightlife, shopping malls, grocery stores—the list goes on and on! A family with young children would do well to find a home near a school, park, or recreational center, whereas a young, professional couple may prefer living downtown. Find a neighborhood that suits your needs and your lifestyle.
Recreational Choices
Each and every city/town offers its own unique activities throughout each season. Depending on what appeals to your family, you'll want to research those seasonal sports and activities  to ensure your new neighborhood allows for the opportunity to participate.
Summer: cycling, golfing, sailing, hiking, canoeing
Winter: skiing, snowboarding, ice skating, tobogganing
Nature lovers: parks, beaches, pools and gardens
If you prefer the indoors: community centers, theaters, art galleries and museums
Does your neighborhood have any festivals, concerts, or sporting events?
U & Me Moving and Storage is located in West Palm Beach and offers both local and long distance moving services. Once you determine what your neighborhood will look like, we'll handle the rest! Our solutions are affordable, fast, and effective and we even provide storage solutions as an added service. Relocation can be made simple with the right team to assist you.
Get in touch with our family-owned business for a free- no obligation quote. Happy Moving!
Call 561-832-6156