Have an Upcoming Move Planned? Here's What NOT to Pack Before Moving Day
Whether you're moving down the street or across the country, packing can come with its own set of stresses and typically requires some organization and planning to help with the process.  Tackling packing comes with more considerations aside from knowing what items to place in what box and labeling each accordingly. While this is necessary, it is also important to know what items you should NOT pack immediately. Here are some important items you don't want to pack away in boxes just yet…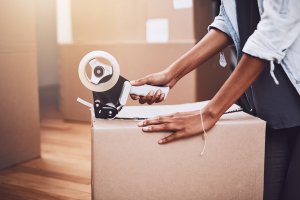 The Entire Contents of Your Fridge
Now, having mentioned this we are definitely not saying you should toss away perfectly fine food, but in the days leading up to your moving day, you should do your best to reduce your grocery shopping so that you aren't stuck transporting produce, juices, poultry, frozen foods, you name it, the night before you move. If you are only moving across town, place refrigerated items in a cooler in the mean time, and this should provide enough protection until you have access to your new fridge and freezer. Alternatively, you could make a point to consume as much as you can when it comes to your freezer foods or even offer to give some of it up to a neighbor or friend. They may just appreciate the kind gesture!
Items You May Not Need or Want
If you find that you've discovered old dresses, pants and shoes that you haven't seen emerge from your closet previously from now, chances are you won't miss them. If you haven't worn something in a year, it is probably safe to say that you don't need to bring them along to your new place. Take a good look at what you plan to pack and weigh out whether each item is necessary to take with you. If you have any hesitations, you can probably do without. Those old boardgames collecting dust and the scrapbook you haven't got to yet, may be better off donated to a local charity. A new home brings an opportunity for a fresh start. Why not clear out as much clutter as possible and start your new chapter on the right foot!
Plants
Unless you're extremely attached to your current houseplants, it may be more ideal to leave the flora for the future homeowner or consider giving them to a family member. Plants are extremely vulnerable to change and therefore can pick up on environmental changes quickly. Essentially moving your plants puts them at risk of surviving as unfortunately there are no guarantees with how they will cope to the travel and general change. With that said, if your plants have been in your family for decades and you cannot cope with the idea of parting with them, do your best to properly protect them prior to the move. Prune them and make sure they've had plenty of water so that the soil remains moist.
Pet Supplies
Dogs and cats can get easily stressed if they sense a move and their surroundings are disturbed while you pack. You should ensure you leave some key favourites to help calm them down and keep them feeling comfortable and happy. Consider leaving out toys, treats, pee pads, and litter.
Toiletries
When you get to your new home, the last thing you'll want to do is begin unpacking boxes immediately because chances are you will be exhausted. Once the moving trucks are gone, you'll likely want to do nothing but relax and get to know your new home at a calm and easy pace. Packing your daily essentials in a backpack will allow you to find your toothbrush, toilet paper, and shampoo right away, should you want to take it easy your first night.
Get in touch with U & Me Moving and Storage for information on our moving and packing services. We want you to have a stress-free move and are confident that through our expertise and moving solutions, you can have a relaxed and successful move to your new home or office. We are pleased to help!
Call our team in West Palm Beach today, to learn more at 561-832-6156