Moving Soon? Here's How to Cope with the Stress
Moving Soon? Here's How to Cope with the Stress
You're organizing your home to pack up and move to a new place; as you'd expect, it can be an emotional process that comes with some stresses unfortunately too. Feeling stressed as you embark on this new journey is totally normal, but luckily there are simple tips that can help you manage and reduce such headaches.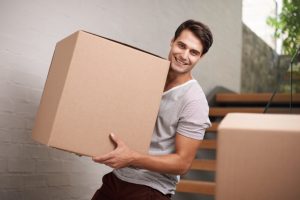 Did you know that studies reveal Americans move at least four to five times throughout their lifetime?  Job relocation is the biggest reason next to an increase in family size as the most popular reason for moving. In some situations, you learn about a move with little notice while in other circumstances sometimes you are simply the victim of your own procrastination.
In any case, let's take a look at how to properly handle the stress of moving:
Be Sure to Plan Ahead
The duration you have until its moving day may not always be yours to decide, but how quick you react is in your control. By coming up with a detailed action plan once the moving plans are finalized, you will significantly reduce the chances of added stress down the road. While you craft the specific details, be sure you are realistic and remember to consider the amount of time and budget you have to work with. What should be done first?  Decide on your moving date, and do your best to allow for a small amount of overlap between your new and old place. In doing so, once you've moved everything to the new location, you can go back to clean and pick collect any remaining items that may be lingering. By beginning the process as quick as possible and selecting your moving company in advance, you will experience a much more organized and efficient move as a result.
 Place Valuables in a Secure Spot
The last thing you want to deal with during your move is losing your valuables. How can you combat this risk?  Make the proper plans ahead and collect all valuables, storing them in one secure place for the duration of your move.
Plan ahead by collecting all your valuables, storing them in a safe place for the duration of your move. A secure place could be in a safe located in your home, but for the sake of your security and sanity, we highly suggest you turn to a moving company that can also provide you with storage services. Short-term storage services provide the perfect solution because you will know exactly where your valuables are at all times; belongings remain protected and safe until you are ready to retrieve them again. Consider storing all of your important paperwork and valuable family heirlooms here as well.  You should also think about creating a moving folder on your computer, which includes any important invoices, receipts, and itinerary that pertains to your move. This will give you immediate access to reference such important documents should you need it quickly.
Make Time for Some Fun
Even while moving can be hectic, it's important to keep in mind that it doesn't have to consume every second of your time either. Make sure you still allow yourself to partake in the activities you love and have fun doing; doing what you love after all, is a natural stress reliever and gives you some space to clear your head and put any moving worries into perspective. Whether these means making time to exercise, read, paint or watch a show, it is up to you to decide, but enjoy it!  Taking time for yourself during a move also includes maintaining a healthy lifestyle. Make it a priority to get enough sleep, eat well and get in exercise if this is something you'd normally do. Moving is not the time to get sick. By making sure your body is taken care of, you gain the additional energy and fuel necessary to make your move a successful one.
Accept Help
Moving is not the time to let your pride take over. If you have limited time and panic is starting to set in, there is absolutely no harm in requesting or allowing help from family and friends to get the job done faster. While you gain much needed help, you also get to spend time with people you care about before moving away. The moving process doesn't need to be a dull boring process either; once you've done some packing, why not take a break and celebrate with pizza or your favorite drinks.
U & Me Moving and Storage is committed to offering you professional relocation services for both local and long distance moves. We work with our clients to simplify the moving process so that you can relax and enjoy your new home or office.
Learn more about our moving services by contacting our office at 561-832-6156 in West Palm Beach.