The Ultimate Guide for Moving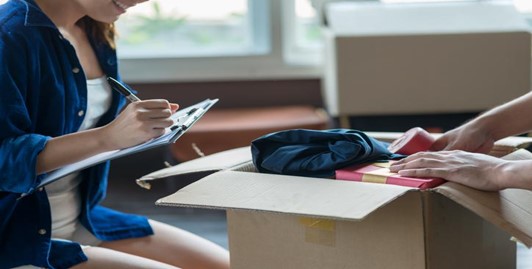 The Ultimate Guide for Moving
The secret to a successful move is pretty simple. Allocate time, effort, and money. If you think moving can happen in one day, then you are mistaken. The moving process begins a few weeks before the actual moving day. You will need much more time and energy than expected.
Step 1. Sort items by categories
If you have lots of items, it causes a lot of problems, each of the items needs to be folded, packed and found in their place.
Sorting will help you organize the items, and it will be easy to find them when you unpack the boxes. But the main advantage of this step is that you will not need to pack and transport all of these things. Why so – read on.
Step 2. Carrying out an audit of things after sorting them
After the items have been categorized by type, for each group, you must decide:
what to keep; what to give or sell; what to leave; and what to throw out. With broken things, everything is simple – throw out everything that is too old, worn out, and will no longer be used. If the item is in working condition but no longer needed, it is better to give out, sell, or donate. Everything you use at least once a week is the most important and necessary item you will pack. But those things that are needed depending on the occasion or season – winter clothes and shoes, sports equipment, children's toys for growth – there is no need to pack and transport all this, you can hand it over to a storage service.
Step 3. What to do before moving
You can start one month before the day of moving. Here's a step-by-step list of things to do.
One month before moving: pay all the bills for electricity, cable, and other services; terminate contracts with companies (cable TV, telephony, etc…); transfer the Internet to a new place of residence.
One week before moving: define the amount of furniture. Plan the day of the move and draw up an exact route from the departure Place to the arrival location.
Buy a different type of packaging materials; find a reliable carrier company and order a truck for the day of moving – here you need to consider the size of items and furniture; pack and disassemble furniture.
The day before moving: Collect a bag with essentials; prepare some food for the evening; collect and pack the last items; disconnect, disassemble and pack large household appliances.
Step 4. Furniture: a few life hacks for preparation and disassemble
✔️ Disassemble all furniture as much as possible – this will make it more convenient to load and transport
✔️ Drawers and shelves need to be pulled out of cabinets and dressers.
✔️ Glass items must be packed and wrapped in bubble wrap;
✔️ When disassembling furniture, the small details should be attached to the big piece of the furniture.
Step 5. Preparing a new place to receive transported items
Not everyone has enough time and energy to take this step, but it is the most important! First of all, you need to do a general cleaning – you can do this yourself or hire the cleaners. You can also bring curtains to your new house in advance and hang curtains in each room – you don't have to look for them as soon as you move. Also, bring soap and a hand towel to your new home – these things are usually needed right away.
An alternative to self-moving is to hire a moving company.
As said at the beginning – all your energy and time allocated for the move should be multiplied by at least two, and then it will look like the truth. If after our instructions on preparing you for the move, you realize that you do not have so many resources, there is a great option – to entrust all this to professionals. You can always hire a moving company- U & Me Moving will get the job done quickly and effectively. All you need to do is to pick a moving company correctly, and you will benefit from an effective, affordable, and fast-moving service.